As Covid-19 continues to shape our everyday lives, retail and shopping malls are seeing major changes that will further advance as online shopping continues to expand.
Credit to; Sleeknote
E-Commerce Sales Are Expected to Reach $4.2 Trillion by the End of 2020 (Statista)
There's been significant growth in e-commerce in recent years. In 2014, total sales reached just $1.3 trillion. But that number has more than tripled in 2020 to $4.2 trillion and is anticipated to keep growing as we move deeper into the 2020s.
E-Commerce Sales Are Predicted to Hit $6.5 Trillion by 2023 (Statista)
In fact, experts have projected annual revenue to climb all the way to $6.5 trillion in just three years.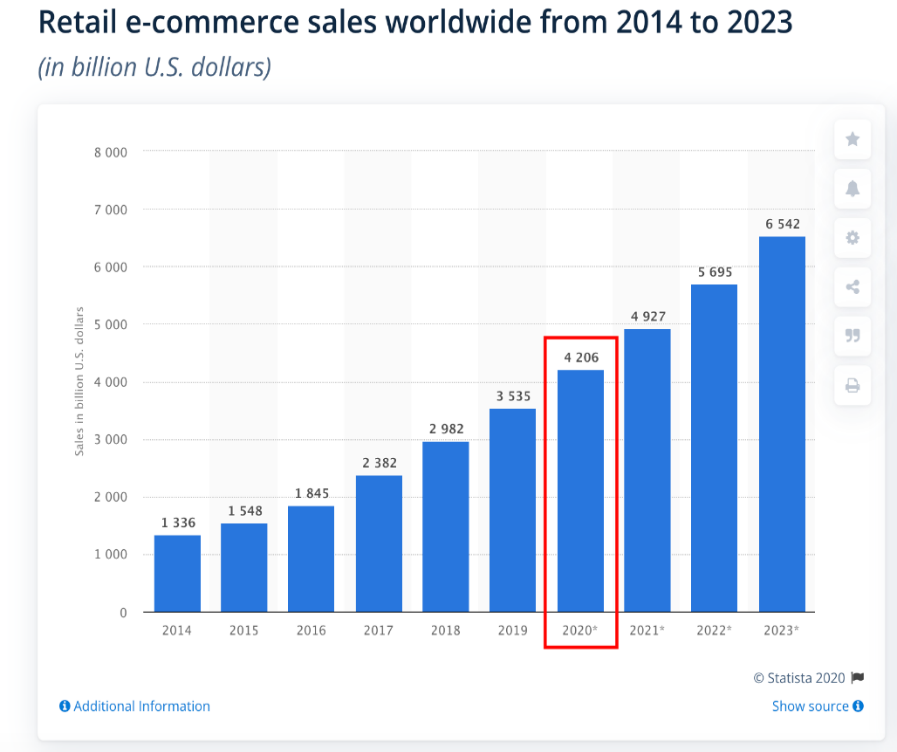 According to a recent report by CNBC, 25% of U.S. shopping malls are expected to shut down within the next 5 years. What can retail space owners expect to do with these large vacant spaces? For one, one of the largest retail real estate investment trusts, and the largest shopping mall operator in the US, Simon Property, is in talks with Amazon to transform its vacant department stores into fulfillment centers. Following the CNBC report on Monday, shares of Simon Property Group jumped up and have since stabilized.
Some questions arise as a result: Can these stores be transformed into industrial spaces? Will zoning laws allow? Local community boards may not like the shift from upscale shopping centers to a more industrial concept, as they will have an impact on the quality of life in respective neighborhoods.
The question goes even deeper, "With all these projections, are we only looking at a potential closedown of just 25%?" Covid-19 has had us adapt to a new norms and taught us the advantages and efficiencies of on-line shopping. What will make us want to go back to the hassles of leaving the comfort of our homes, driving to malls and looking for parking? Sure there's a social component to an outing at the mall but is that enough? Would we as a society really be losing that much if shopping malls died out or transformed completely? My belief is that we'll be looking at a much greater shutdown percentage than the 25% anticipated.
What will owners/operators do with these potentially vacant spaces? Transforming these spaces into fulfillment centers—or any other individualized concept—may be a good idea for the short-term, but it may also prove to be challenging as well as many other issues will likely arise as a result.
The rise of online shopping isn't the only reason that shopping malls are doing worse in recent years. A lot of consumers are turning to small businesses, as opposed to supporting large retail companies. However, if shopping mall owners have the stamina to restructure their infrastructure for a concept that is more adaptable as a whole, they will be in a favorable position in today's market. Some operators don't always have the cash reserves to weather the storm throughout this kind of reconfiguration. They will have to assess their assets and figure out the best solution on how to potentially let go of some of the low performing ones while focusing on the winners. In any event, the best way to sell off these low-performing assets would be to create a plan, identify what the asset can potentially be converted to and package it for a potential sale.
I've many ideas on how to adapt to the current and future landscape taking into account a more digitized society. Spaces can be converted into affordable residential living and incubator spaces for emerging businesses. Shared concepts such as co-working spaces, shared storage, food markets etc. will definitely be on trend. These will in turn yield tighter communities and increased employment opportunities. Capitalizing on the power and strengths of existing structures and making them work to our benefit will be the way to get through this.
I want to hear what you have to say. Add your thoughts to the comments and let's keep this conversation going.
– For Real Estate Trends, I'm Moses Gross.